Foreword/Avant-propos
 UK :

This piece was made for the Painting Crusade 12, the sadly gone belgian contest. The idea was to create a sort of deity representing 'Mother Nature', contemplating the remains of Humanity on a desolate soil, and under the protection of its guardian. Who knows what can happen to her ? Why is she crying and is she sorry for us? Does she think about the mess we made ? Why does she still need protection?
 FR : 
Cette pièce a été réalisée pour la Painting Crusade 12, fameux concours belge aujourd'hui disparu.
L'idée était de créer une sorte de déité représentant 'Mère Nature', contemplant les restes de l'Humanité sur un sol désolé, et sous la protection de son gardien.
Qui sait ce qui peut encore lui arriver ? Pourquoi pleure-t-elle et est-t-elle désolée pour nous ? Pense-t-elle au gâchis dont nous sommes la source ? Pourquoi a-t-elle encore besoin de protection ?
Time to start/Y'a plus qu'à !
 UK :
As usual, I choose the base according to the composition I have in mind. Shape, dimension, everything must correspond with the future scene. I start here on a round base in which I place rods that will serve as a structure for the rock to come. In addition, with a felt pen, I roughly mark the general outlines on it, and the locations of the characters.
 FR :
Comme à mon habitude, je choisis mon socle en fonction de la composition que j'ai en tête. Forme, dimension, tout doit correspondre avec la future scène. Je pars ici sur un socle rond dans lequel je place des tiges qui vont servir de structure à la roche à venir. De plus, avec un feutre, je marque grossièrement les contours généraux de celle-ci, et les emplacements des personnages.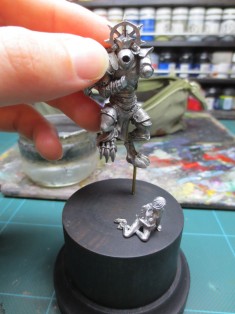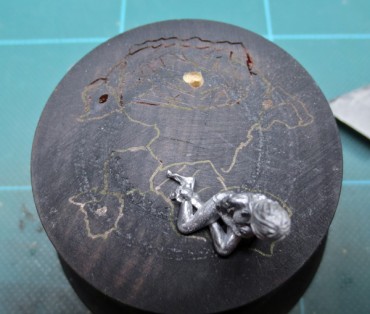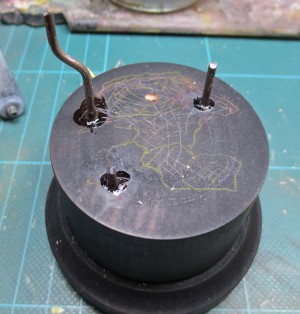 UK :

With Milliput, I start the rock structure and I especially test the height and the placement of the elements with the miniatures.
It must be harmonious. Everything is an eye question, we instinctively realize if the focus is where we want, if an element is too far back or too far, if the rock must go higher, go further back etc.
There is nothing magical in there. It's at most a question of practice. At this stage, don't be too thoughtful, everything is changeable, and will be changed.
 FR :
Avec du Milliput, je commence à former la structure et je teste surtout la hauteur et le placement des éléments avec les figurines.
Il faut que l'ensemble soit harmonieux. Tout est question d'œil, on se rend instinctivement compte si le focus se fait où l'on veut, si un élément est trop en retrait ou trop devant, si la roche doit monter plus haut, aller plus en arrière etc.
Il n'y a rien de sorcier là dedans. C'est tout au plus une question de pratique.
À cette étape, il ne faut pas se prendre la tête, tout est modifiable et sera modifié.
 UK :

The Devourer from the Rackham range: "Nemetis the Sacrilege" was chosen for several reasons. First of all the miniature is beautiful and represents a lot of things. The clothes with a warrior / monk / "sadomasochistic" appearance or the wearing of the mask contribute to the feeling that it is a totally dedicated ally. Everything is reinforced by its attitude as well as its position back and height on the base.
He watches over her.
The fact that the character is a wolf is also extremely important. The wolf teaches spiritual knowledge, guides us in dreams and meditations and symbolizes social and family values. It also symbolizes respect and symbiosis with nature. It represents the firmness, the tenacity of character. But also incorruptibility, courage, dignity and finally death and rebirth.
To choose a wolf as the guardian of "Mother Nature" finally became obvious.
 FR :
Le Dévoreur issu de la gamme Rackham : "Nemetis le Sacrilège" fut choisi pour plusieurs raisons. Tout d'abord la figurine est magnifique et représente pas mal de choses.
Les vêtement avec un aspect guerrier/moine/"sadomasochiste", ou le port du masque contribuent à donner le sentiment qu'il s'agit d'un allié totalement dévoué. Le tout est renforcé par son attitude ainsi que sa position en retrait et en hauteur sur le socle. Il veille sur elle.
Le fait qu'il s'agisse d'une figurine de loup est aussi extrêmement important.
Le loup enseigne la connaissance spirituelle, nous guide dans les rêves et méditations, symbolise les valeurs sociales et familiales. Il symbolise aussi le respect et la symbiose avec la nature. Il représente la fermeté, la ténacité de caractère. Mais aussi l'incorruptibilité, le courage, la dignité et enfin la mort et la renaissance.
Choisir un loup comme gardien de "Mère Nature" s'imposa finalement comme une évidence.
Realize the rocky texture/Réaliser la texture rocheuse.
 UK :

On a Milliput base corresponding roughly to the volumes you want, it is then necessary, with the help of various burrs and a Dremel, to begin by defining hollows, by planing here and there. I started with a conical bur, before coming to use later spherical burrs. The goal is to obtain sorts of craters,  a bit lunar, Martian, or simply suitable for infernal scenery…
 FR :
Sur une base en Milliput correspondant grossièrement aux volumes que vous voudrez, il convient ensuite, à l'aide de différentes fraises et via une Dremel, de commencer par définir des creux, en rabotant par-ci par-là. J'ai commencé avec une fraise conique, avant de venir utiliser par la suite des fraises sphériques. Le but va être au final d'obtenir des sortes de cratères, pour obtenir une roche un peu lunaire, martienne, ou tout simplement convenant à des décors infernaux…
 UK :

I continue the work of sketching the texture by planing so as to obtain hollows, but now also smooth edges, and real holes.
 FR :
Je continue le travail d'ébauche de la texture en rabotant de manière à obtenir des creux, mais désormais aussi des arêtes lisses et de véritables trous.
 UK :

Then with the spherical burrs I make some deeper craters . Do not hesitate to force the sketch . It is necessary for the future paint to obtain frank contrasts between the hollows and the sharp edges.
 FR :
Puis avec les fraises sphériques je viens rend plus profond certains cratères. Il ne faut pas hésiter à forcer le trait. Il faut qu'ensuite à la peinture, il soit aisé d'obtenir des contrastes francs entre les creux et les arêtes nettes.

 We take out the brushes/On sort les pinceaux !
 UK :

As often, I start with the legs of the miniature, just to test my color scheme. As Mother Nature will have have green tones, I'll have to counterbalance that on the guardian. So, he will have red somewhere.
For her skin, I started on the idea of ​​a neutral tone, and rather than a gray, I headed for a beige / light brown. As a reminder, in a chromatic circle composed of the three primaries, there is neither gray nor brown. These shades once placed on the miniature are therefore "neutral" areas.
This is a handy tip for not ending up with something too colorful in general.
-The loincloth is based with a mixture of brown (Umbral Umber P3) and red (Blood Red + Scab Red GW)
-The skin is based with a mix of Snakebite Leather GW + Umbral Umber P3, Ivory Prince August and Bleached Bone GW.
 FR :
Comme toujours, on commence par la base. Et comme toujours, je commence par les jambes de ma figurine, histoire de tester mon schéma de couleur. Mère Nature allant avoir des tons verts, il va me falloir contrebalancer cela sur le gardien. De fait, il aura du rouge.
Pour sa peau, je suis parti sur l'idée d'un ton neutre, et plutôt qu'un gris, je me suis dirigé vers un beige/brun clair. Pour rappel, dans un cercle chromatique composé des trois primaires, il n'y a ni gris, ni marron. Ces teintes une fois posées sur la figurine sont donc des zones « neutres ». Il s'agit d'une astuce pratique pour ne pas se retrouver avec quelque chose de trop bigarré de manière générale.
-Le pagne est basé avec un mélange de marron (Umbral Umber P3) et de rouge (Blood Red + Scab Red GW)
-La peau est basée avec un mélange de Snakebite Leather GW + Umbral Umber P3, Ivoire Prince August et Bleached Bone GW.
 UK :

-The loincloth is shaded with more Umbral Umber, to which I add touches of dark purple (Liche Purple GW + black). The reason for the purple in the shadows is that the parts of the miniature will be thinned with yellows.
I get a complementary contrast of colors between the shadow of the loincloth, and lights on the miniature. Everything is harmonized and enriched.
Regarding the loincloth's lights, I mount the base color with more Blood Red, then just added a tip of Cadmium Orange (Lefranc Bourgeois) and Flesh tone (LB).
If you use too much orange or flesh tone, you can simply use a red wash to harmonize / correct the tone, while maintaining a higher value of light.
- For the skin, I shaded my base with more and more Umbral Umber. Some blues and purplish/blue tips are also associated in some of the finals linings and finals shadows in addition to the Umbral Umber. The lights are done with the additions of Bleached bones, then Ivory + Naples Yellow (LB).
-At this level the skin and the loincloth are relatively soft in terms of treatment. To counteract this the thongs and the armor areas will be more textured. The strips are bases with a mixture of Umbral Umber and black. I went directly to paint fines lines, small touches of paint on the edges of the strips, to simulate wear and scratches. These lines are composed of Ivory and Naples Yellow. I dilute this mixture that I spend largely on the parts receiving the most light. It helps me to  unified the textured, as lighten it in a very light way.
 FR :
-Le pagne est ombré avec de plus en plus d'Umbral Umber, auquel j'adjoins des touches de violet sombre (Liche Purple GW + noir). La raison du violet dans les ombres est que pas mal de parties de la figurine seront éclaircis avec des jaunes. J'obtiens ainsi un contraste de couleurs complémentaires, entre les ombres de mon pagne, et des éclaircis présents sur la figurine. Le tout s'harmonise et s'enrichit.
Concernant les éclaircis du pagne, je monte ma teinte de base avec de plus en plus de Blood Red, puis j'y adjoint une pointe d'Orange de Cadmium (Lefranc Bourgeois) et de Teinte chaire (LB). Si le ton remonte trop vers l'orange ou la chaire, il me suffit de repasser des lavis de rouge par dessus pour harmoniser/corriger la teinte, tout en gardant une valeur supérieure d'éclairci.
- Pour la peau, j'ai ombré ma base avec de plus en plus d'Umbral Umber. Quelques pointes de bleus, et de bleus/violacés sont aussi adjointes pour certains lining et ombrages finaux dans l' Umbral Umber.
Les lumières, elles, sont montées avec des ajouts de Bleached Bone, puis d'Ivoire + du Jaune de Naples (LB).
-À ce niveau la peau et le pagne sont relativement « doux » en terme de traitement. Pour contrebalancer cela les lanières et les zones d'armures seront plus texturées. Les lanières sont basées avec un mélange d'Umbral Umber et de noir. Je suis directement venu posés de fins traits, et des petites touches de peintures, sur les bords des lanières, afin de simuler usure et éraflures. Ces traits sont composés d'Ivoire et de Jaune de Naples. Je dilue ce mélange que je passe en jus très fins sur les parties recevant le plus de lumière. Cela me sert autant à unifier la texture, qu'à éclaircir mes lanières de manière très légère.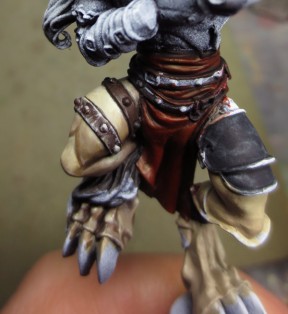 UK :
I start in parallel the armor areas. Knowing that the skin is partly satin, and that the fabric is relatively matt, I decided to go for an armor with a somewhat lacquered rendering. I play on areas sometimes matt, satin, or brilliant to bring variety to my miniature and simulate different materials. I come back to it often, but it is a crucial point to remember. I base the plates with a mixture of black, Naples yellow and turquoise ink P3. Then I begin to add more and more yellow and simulate reflections of lights following the logic of the curves of the plates of armor.

 FR :
Je commence en parallèle les zones d'armures. Sachant que la peau est en partie satinée, et que le tissu est relativement mat, je me suis décidé pour une armure avec un rendu quelque peu laqué. Je joue sur des zones tantôt mate, satinée, voire brillante pour apporter de la variété sur ma figurine, et simuler différentes matières. J'y reviens souvent, mais il s'agit d'un point crucial à ne pas oublier.
Je base les plaques avec un mélange de noir, de Jaune de Naples et d'encre turquoise P3. Puis je commencer à rajouter de plus en plus de jaune et simuler des reflets de lumières en suivant la logique des courbes des plaques d'armure.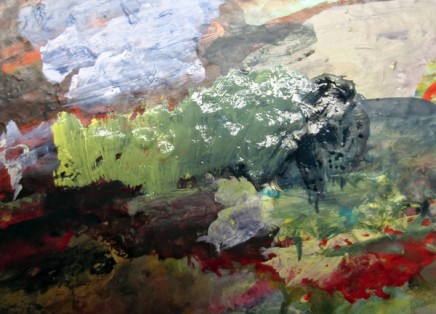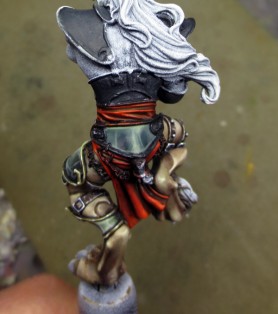 UK :
I progress on the lights by adding more and more ivory, until this pure hue. The goal is to obtain very frank contrasts. From the very bright to the very dark side. This is the principle of the NMM. A metallic or shiny surface will have very strong contrasts on the reduced surfaces.
Although the idea is not to do a NMM here, the theoretical approach helps for the process.
 FR :
Je progresse dans les éclaircis en ajoutant de plus en plus d'Ivoire, jusqu'à cette teinte pure.
Le but est d'obtenir des contrastes très francs. Du très clair à côté du très sombre. C'est le principe du NMM. Une surface métallique ou brillante aura des contrastes très forts sur des surfaces réduites.
Bien que l'idée ne soit pas ici de faire un NMM, l'approche théorique aide à la réalisation.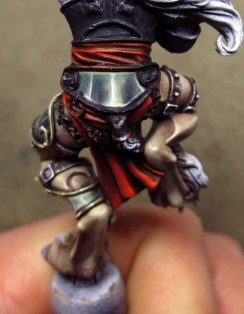 UK :

I do the same on all the others similars parts at the same time, it helps to keep the same regularity in my mixtures. I also add a few lines here and there to simulate the wear, the blows that the armor was able to receive, etc.
I'm also starting to work on the gilding around the armor.
These are simply based with  Snakebite Leather  GW + Bubonic Flesh GW and black. The shadows are made with Umbral Umber, then Umbral Umber + black + purple.
The lights are mounted with Naples yellow, then Ivory. The principle is the same, for any dark area, I have an adjacent clear area.
 FR :
Je fais de même sur la totalité de la figurine, afin de travailler les zones en même temps et de garder la même régularité dans mes mélanges. J'ajoute aussi quelques traits par-ci par-là pour simuler l'usure, les coups que l'armure a pu recevoir, etc. Je commence aussi à travailler sur les dorures entourant l'armure.
Celles-ci sont simplement basées avec du Snakebite Leather GW + Bubonic Flesh GW et du noir. Les ombres sont réalisées avec de l'Umbral Umber, puis de l'Umbral Umber + noir + violet.
Les lumières sont montées avec du Jaunes de Naples, puis de l'Ivoire. Le principe est le même, pour toute zone sombre, j'ai une zone claire adjacente.
 UK :

Next : the hair. As said above, it is necessary to play on the complementarity of colors. Whether using the same tone in various ways on the miniature, or with the complementarity of these: red with green, orange with turquoise, purple with yellow : there is nothing wizarding. Since yellow is massively used on the figurine, I opted for a tone of very light hair, almost white, but while being purplish. I used Liche Purple GW for the base tone.
 FR :
Je passe aux cheveux. Comme dit plus haut, il convient de jouer sur la complémentarité des couleurs. Que ce soit en utilisant le même ton de diverses manières sur la figurine, ou par la complémentarité de celles-ci : le rouge avec le vert, le orange avec le turquoise, le violet avec le jaune : il n'y a rien de sorcier. Vu que le jaune est massivement utilisé sur la figurine, j'ai opté pour une teinte de cheveux très clairs, presque blanc, mais tout en étant violacés. Je base ces derniers avec du Liche Purple GW.
 UK :

I then lighted the hair with a bluish gray. A mix of a color that looks like Space Wolf Gray GW. Then I mount the rest with Ivory and a few points of white.
I use some light bluish gray juice in the shadows to de-saturate the original purple.
 FR :
J'éclairci ensuite cette base avec un gris bleuté. Un mélange d'un simili Space Wolf Grey GW.
Puis je monte le reste avec de l'Ivoire et quelques pointes de blanc. Je passe quelques légers jus de gris bleutés dans les ombres afin de dé-saturer le violet de départ.
Quick point on the NMM/Rapide tour des NMM
 UK :

I return to the gilding, this time concerning the sort of "holy halo" above his head. I will be more succinct on this part as I realized a complete article on the difference of treatment between the NMM and the TMP (to be publish on the site). We can see from the the sketchs, I seek to obtain marked contrasts.
 FR :
Je reviens sur les dorures, cette fois concernant l'espèce « d'halo saint » au dessus de sa tête. Je vais être plus succinct sur cette partie ayant réalisé un article complet sur la différence de traitement entre le NMM et le TMP (à venir sur le site).
On peut voir que dès le tracé des bases, je cherche à obtenir des contrastes marqués.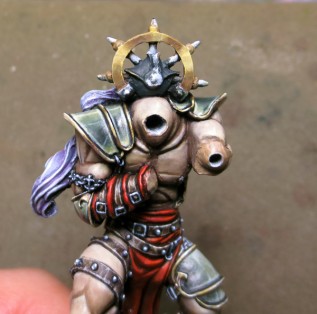 UK :

Once you're done, all you have to do is refine the transitions, put some contrasts here and there, and end with the points of lights.
 FR :
Une fois l'étape précédente obtenue, il ne reste plus qu'à affiner les transitions, poser de-ci de-là quelques contrastes et terminer par les points de lumières.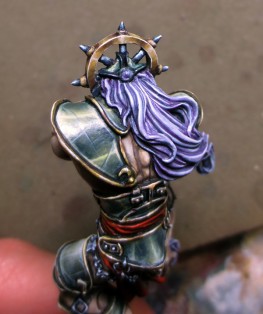 UK :

Regarding the blade of the halberd, I use a base composed of black, white and Payne Gray from Golden.
 FR :
Concernant la lame de la hallebarde, j'utilise une base composée de noir, de blanc et de Gris de Payne de chez Golden.

 UK :

Once again, I mark the contrasts. The principle is always the light / dark opposition. I do not care that the result is "fuzzy" for the moment, I really take care of the placement of my lights and the intensity of colors and their values. The finishing work will come later. Even if at the stage of this photo I had already begun to refine certain transitions, it is important to know how to let go, to learn how to pose shades or unmixed tones, then to come and refine the work afterwards. This allows you to test the overall result you want to achieve.
 FR :
Encore une fois, je marque les contrastes. Le principe est toujours celui de l'opposition clair/sombre. Je me moque que le résultat soit "flou" pour le moment, je m'occupe vraiment du placement de mes lumières et de l'intensité de couleurs ainsi que de leurs valeurs. Le travail de finitions viendra par la suite. Même si à l'étape de cette photo j'avais déjà commencé à fondre certaines transitions, il est important de savoir lâcher prise, d'apprendre à poser des teintes franches ou des teintes non fondues, puis de venir affiner le travail par la suite. On teste ainsi le résultat général que l'on veut obtenir.
 UK :

The points of light and the edges are made. We note that with these additions contrasts become more visible, but especially that the readability of the blade appears. The lights are simply make with Ivory, as for the shadows I add black in my base without using it pure. However, I finish with Scab Red juice and black in the shadows, to bring a little extra chromatic touch to them.
 FR :
Les points de lumières et les arêtes sont ajoutées. On note que s'est avec ces ajouts que les contrastes se font plus visibles, mais surtout que la lisibilité de la lame apparaît. Les lumières sont simplement montées avec de l'Ivoire, quant aux ombres j'ajoute du noir dans ma base sans arriver à cette dernière teinte pure. En revanche, je termine par des jus de Scab Red et de noir dans les ombres, afin d'apporter un petit plus chromatique à celles-ci.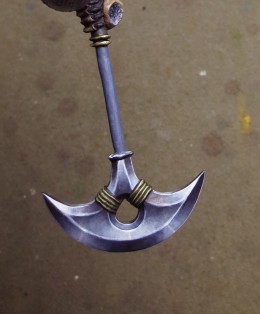 UK :
Small aside. Do not hesitate to paint elements separately if it facilitates the general accessibility of certain areas of the miniature. Here: Globally all the part of the character behind the halberd. There is no need to re-sculpt junctions with paste, here some Milliput, over previously painted areas. We can see on the next picture that I sculpted the junction between the left arm and the forearm while the whole is already painted. I only had to paint over the milliput with the corresponding colors once it dries, and that without even having to undercoat it. Don't be afraid !

 FR :
Petit aparté. Il ne faut pas hésiter à peindre des éléments séparément si cela facilite l'accessibilité générale de certaines zones de la figurine. Ici : globalement toute la partie de la figurine derrière la hallebarde. Il n'y a aucun souci à re-sculpter des jonctions avec de la pâte, ici du Milliput, par dessus des zones déjà peintes. On peut voir sur la photo suivante que j'ai sculpté la jonction entre le bras gauche et l'avant-bras alors que le tout est déjà peint. Je n'ai eu qu'à repasser avec les teintes correspondantes sur la pâte une fois celle-ci sèche, et cela sans même avoir à la sous-coucher.
N'ayez pas peur !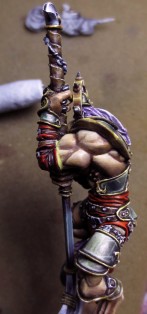 UK :
For the face, and in order to make it a focal point and to differentiate it, the mask's fabric was painted black, not red. In this way, the skin of the face and gilding emerge.

 FR :
Pour le visage, et afin d'en faire un point focal et de le différencier, le tissu du masque a été peint en noir, et non en rouge. De cette manière, la peau du visage et les dorures ressortent.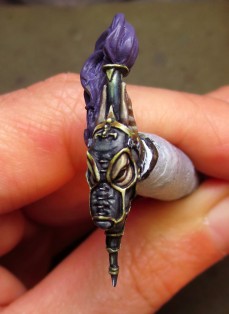 Mother Nature / Mère-nature.
 UK :

I then moved on to our divinity. In order to make it stand out compared to the guardian and the future "Martian" floor, as well as to stick to its theme, I turned to a shade of light green, a little milky, for its skin. The base is a blend of Bleached Bone GW, Gray and Knarloc Green GW.
 FR :
Je suis ensuite passé à notre divinité. Afin de la faire ressortir par rapport au gardien et au futur sol « martien », ainsi que pour coller à son thème, je me suis donc tourné vers une teinte de vert clair un peu laiteux pour sa peau.
La base est un mélange de Bleached Bone GW, de gris et de Knarloc Green GW.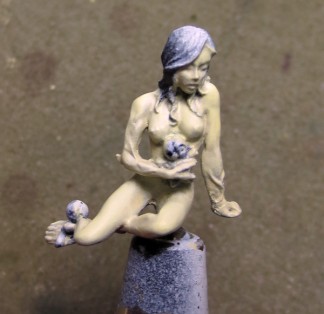 UK :

I started with quick juices from our base with additions of Knarloc Green and Umbral Umber to mark the shadows. I then started to add more and more green.
 FR :
J'ai débuté par des jus rapides de notre base avec des ajouts de Knarloc Green et d'Umbral Umber afin de marquer les ombres. J'ai ensuite commencé à rajouter de plus en plus de vert.
 UK :

For the lights, I went with pure Bleached Bone, then with additions of Ivory and some yellow Naples tips. The deity having slightly "mutated" areas, I went to mauves and roses a tiny bit "fluo" for them. I took the opportunity to mark with these tones some areas, such as the folds of the joints, lips, cheekbones and nipples. In order not to add too many additional hues, I also decided to go for a brown hair.
 FR :
Pour les lumières, je suis parti vers des éclaircis à base de Bleached Bone pur, puis avec des ajouts d'Ivoire et de quelques pointes de Jaune de Naples. La figurine ayant des zones légèrement « mutées », je suis parti vers des mauves et des roses un tantinet « fluo » pour celles-ci. J'en ai profité pour marquer avec ces teintes certaines zones, comme le plis des articulations, les lèvres, les pommettes et les mamelons.
Afin de ne pas rajouter trop de teintes supplémentaires, j'ai aussi décidé de partir vers un marron/châtain pour les cheveux.
The base / Le socle.
 UK :
I base the rock with a rather dark gray-blue. The mix consists of White, Black and Payne Gray.

 FR :
Je base la roche avec un gris-bleu assez foncé. Le mélange se compose de blanc, de noir, et de Gris de Payne.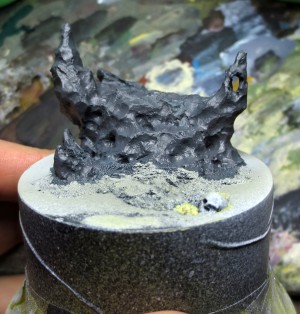 UK :
Dry brushing. I just use Naples Yellow and Ivory on the edges.

 FR :
En brossant à sec, je viens déposer du Jaune de Naples et de l'Ivoire sur les arêtes.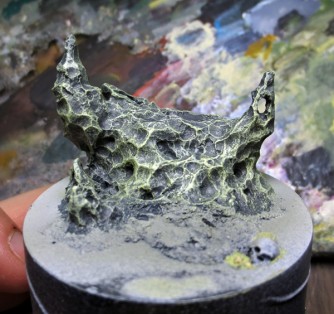 UK :

The previous step having been deliberately frank, I pass new juices composed of my base, but also purple, this time focusing on the hollows. I also start refining some surfaces and edges attracting light, with Ice Blue GW, then Naples Yellows (thus obtaining some green intermediate areas), and finally Ivory.
 FR :
L'étape précédente ayant été volontairement franche, je repasse de nouveaux jus composés de ma base, mais aussi de violet, cette fois en me concentrant sur les creux. Je commence aussi par dégrader certaines surfaces et arêtes attirant la lumière, avec de l'Ice Blue GW, puis du Jaunes de Naples (obtenant ainsi quelques zones intermédiaires vertes), et enfin de l'Ivoire.
 UK :
I end the base with the "Martian" effect. For that I just used dry pigment, including Prime Red from Mig, Light Rust and Dark Rust from the same range. Once satisfied, I fixed these pigments with Pigments Fixer MIG. I then came to add touches of Cadmium Orange and Naples Yellow , in light dry brushing, once certain that the pigments did not move any more.

 FR :
Je termine le socle avec l'effet « martien ». Pour cela j'ai simplement usé de pigment sec, notamment du Prime red de chez Mig, de Light Rust et de Dark Rust de la même gamme. Une fois satisfait de la répartition, j'ai fixé ces pigments avec du Pigments Fixer MIG. Je suis ensuite venu ajouter des touches d'Orange de Cadmium et de Jaune de Naples, en légers brossages à sec, une fois certain que les pigments ne bougeaient plus.
We bring the family together / On réunit la famille !
 UK :

The goal of this piece was to play on a very small palette, while there are two protagonists. In the end, however, everything is complete. Red, green. Yellow, purple. We remain on a harmonious scene, but in which the two characters stand out. Moreover, I like the symbolic aspect of this maternal and nurturing deity, contemplating the remains of her childrens in a devastated world. No doubt melancholy, pensive, perhaps bitter, but finally unable to afford to hate her own creation and lovingly watching her. All under the watchful eye of his guardian, who will not allow, or certainly will not allow anymore, anything that can happen to her.
 FR :
Le but de cette pièce a été de jouer sur une palette très réduite, alors qu'il y a pourtant deux protagonistes. Au final, cependant, tout se complète. Du rouge, du vert. Du jaune, du violet. Nous restons sur une scène harmonieuse, mais dans laquelle les deux personnages se détachent. De plus, j'aime l'aspect symbolique de cette divinité maternelle et nourricière, contemplant les restes de ses enfants dans un monde dévasté. Sans doute mélancolique, pensive, peut-être amère, mais ne pouvant se permettre au final d'haïr sa propre création et la regardant de manière aimante. Le tout sous l'œil attentif de son gardien, qui ne permettra pas, ou certainement qui ne permettra plus, que quoique ce soit puisse lui arriver.
THE GUARDIAN