UK TEXT :
Nikita is a commission I made for Warforge, a french company that proposes pretty lovely Sci-Fi female characters. The sculpt is from Gauthier Giroud, aka Graphigaut.
———————–
TEXTE FR :
Nikita est une figurine dont j'ai réalisé la peinture studio pour Warforge, une société française proposant de bien jolis personnages féminins, liés à des univers de science-fiction. La sculpture est de Gauthier Giroud, aka Graphigaut.
 PAINTING NIKITA
UK TEXT : 
When we spoke about Nikita's color scheme I proposed a sand/military camo for the figure or a remake of my "Time Always wins" (Painting Buddha season 1.1) black and red colors.
And it's the second option that won the bet. The only thing : Nikita have a body suit armor that the two assassins of Painting Buddha didn't have. We didn't wanted a too dark miniature (black suit, dark armor, and only a red cloack for the saturation). So we decided to go on a green armor to have a nice complemantary color contrast on the miniature. Having decided that, I started to base the miniature.
The red base is a mix of Scab Red (GW) + Blood red (GW) and Umbral Umber (P3)
———————–
TEXT FR :
Quand nous discutions du schéma de couleur de Nikita avec Warforge, j'ai proposé une version camo militaire type désertique, ou un remake du schéma rouge/noir fait sur "Time Always wins" (Painting Buddha season 1.1).
Au final, nous nous sommes décidé pour la seconde option. Seule chose : Nikita possède une armure bien plus importante que les deux assassins. Et nous ne voulions pas une figurine trop sombre (tissu noir, armure sombre, et juste le manteau rouge pour apporter de la couleur). Nous avons donc convenu qu'une armure verte, serait une jolie complémentaire à utiliser sur la pièce. Une fois cela décidé, j'ai pu commencer à baser la figurine.
Le rouge est basé avec un mix de Scab Red (GW) + Blood red (GW) et d'Umbral Umber (P3)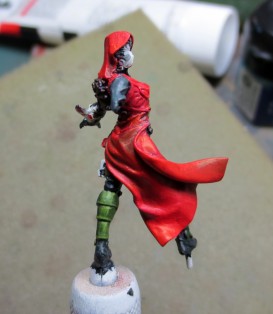 UK TEXT :
The green base is composed of Olive Ordic (P3). I put some rough (but diluted) shadows (Ultramarine blue [Lefranc Bourgeois]), and lights (Naples Yellow [Lefranc Bourgeois]).
———————–
TEXT FR :
Le vert est basé avec de l'Olive Ordic (P3). J'ai aussi placé rapidement quelques ombres diluées (Bleu d'Outremer [Lefranc Bourgeois)]) et lumières (Jaune de Naples [Lefranc Bourgeois].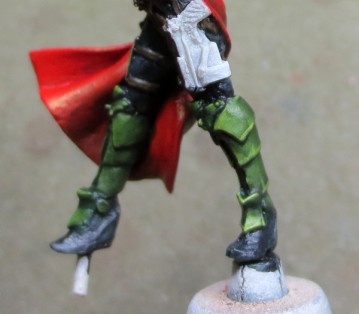 UK TEXT :
I progress on the contrast. Lights are done with more and more Naples Yellow, then with some Ivory (Valejo).
Shadows are done with Ultramarine blue, then with a dot of dark purple in it.
Finally, washes of Turquoise are done in some intermediate zones.
———————–
TEXT FR :
J'augmente les contrastes. Les lumières sont poussées avec de plus en plus de Jaune de Naples. Puis de l'Ivoire (Valejo)
Les ombres le sont avec du bleu d'Outremer, puis avec une pointe de mauve sombre en plus.
Enfin, des jus de Turquoise sont passées dans certaines zones intermédiaires.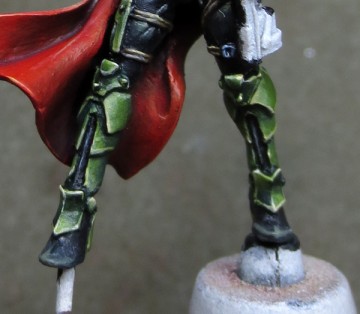 UK TEXT :
For the red, lights are made by using more and more Blood red, and Cadmium Red (Liquitex). Then I added some flesh tint (Lefranc Bourgeois) and Cadmium orange (Liquitex). I finished it by using dots of Naples Yellow.
For the shadows, I used purple brown (Umbral Umber + blue + red), then dark purples (home made, and also Liche Purple + a point of black). I also used some washes of Cadmium red, and sometimes with a bit of Scab red for the intermediar tones.
You can see that the red and green have similar lights and shadows, even if they are different colors. It helps a lot to obtain a chromatic harmony.
———————–
TEXT FR :
Pour le rouge, les lumières sont montées avec du Blood red (GW), et du Rouge de Cadmium (Liquitex). Puis, j'ai utilisé une teinte chair (Lefranc Bourgeois) avec de l'Orange de Cadmium. J'ai terminé par l'utilisation de jaune de Naples pour les points de lumières.
Pour les ombres, j'ai commencé par utiliser des marrons mauves (Umbral Umber + rouge + bleu) et des mauves sombres (faits maison, ou Liche Purple + une pointe de noir). J'ai aussi placé des jus de Cadmium rouge, et parfois avec un peu de Scab Red, dans les tons intermédiaires.
On peut voir que le rouge et le vert partagent les mêmes ombres et lumières, même si ce sont des couleurs différentes. Cela aide à obtenir une harmonie chromatique.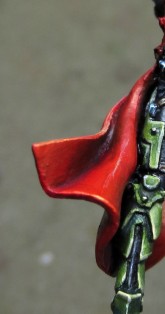 UK TEXT :
For the black, the base was a mix of black and Turquoise (Valejo). When painting black, you cannot use black as your main color. Why ? Because what is darker than black !? Nothing is the answer. You cannot create shadows by using black as a color base. You have to create an intermediar tone of black when painting it. Here I chose some Turquoise because it's a cold color. I wanted a cold black, to keep the only warm color on the cloack.
So : base = Black + Turquoise.
Shadows = Black (with sometimes a point of blue).
Lights = Naples Yellow in my base, to obtain a green and cold light tone.
For not adding an additional color, all leather components were painted brown. Brown is a grey in terms of value and therefore a neutral tint.
———————–
TEXT FR :
Pour le noir, j'ai utilisé un mélange de noir et de Turquoise (Valejo) comme base. Lorsque l'on peint du noir, on ne peut utiliser le noir seul comme base. Pourquoi ? Eh bien, car il n'y a rien de plus sombre que le noir ! Comment ombrer du noir si on l'utilise comme couleur de base ? Il faut pour cela se créer une base intermédiaire de noir. Ici, j'ai choisi le Turquoise car c'est une couleur froide. Je voulais un noir froid, pour garder la teinte chaude uniquement via le manteau.
Donc : base = noir + Turquoise
Ombres = noir (avec parfois une pointe de bleu)
Lumières = Jaune de Naples dans la base, pour obtenir un ton froid de vert clair.
Pour ne pas rajouter une teinte supplémentaire. Tous les éléments en cuir ont été peints en marron. Le marron étant un gris en terme de valeur, et donc une teinte neutre.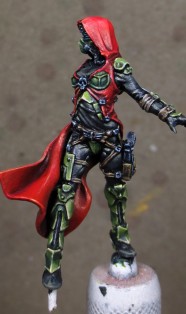 UK TEXT : 
The blade on the left arm is painted with the opposite dark/clear method.
———————–
TEXT FR :
La lame sur le bras gauche est peinte en opposition clair/sombre.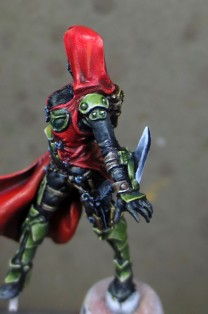 UK TEXT :
A white border is added to the bottom of the coat to break the monotony and bring some "dynamic" to the eye.
———————–
TEXT FR :
Un liseré blanc est aussi ajouté en bas du manteau pour casser sa monotonie et apporter un "plus dynamique" à l'œil.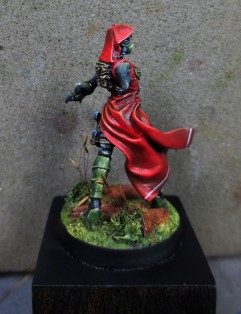 UK TEXT : The rifle is painted with high contrasts, to simulate the aspect of a metallic object. Different to a textile or a skin, that have much more sweet contrast.
———————–
TEXT FR :  Le fusil est peint avec des contrastes assez forts, pour simuler l'aspect métallique de l'objet. Ce qui est différent d'une peau ou d'un textile avec des contrastes bien plus doux.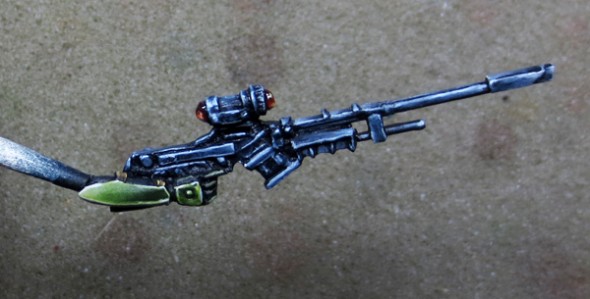 UK TEXT : We get closer to the end.
———————–
TEXT FR : On se rapproche de la fin.
UK TEXT : I test the position of the arm with the gun before proceeding to the step of gluing. Just to see what works best and to ensure that all works also in terms of harmony and light.
———————–
TEXT FR : Je test la position du bras avec le fusil avant de passer à l'étape du collage. Histoire de voir ce qui fonctionne le mieux et de vérifier que l'ensemble fonctionne aussi en terme d'harmonie et de lumière.
UK TEXT :
I love the movement and the design of the miniature, and I really think it'll be a perfect miniature for display, or to integrate as a proxy assassin in various Sci-Fi games (Warhammer 40k, Infinity etc.).It was also a pleasure to work with Warforge team, and to have their confidence during all the process. More, it was also interesting to work on a miniature with an additionnal arm (a close combat arm, plus a long distance rifle), and have to think about the manner to paint them seperatly, but have to make officials picture without any gaps and any visible aspect of it.
All I can said now : I cant wait to see what will be next

!
And if you are interested by this beautiful assassin, you can find her here : Warforge SHOP
———————–
TEXTE FR :
J'aime beaucoup le mouvement qu'il est parvenu à donner à la pièce. Je pense qu'elle fera une très jolie figurine de concours, ou bien une pièce qu'il sera aisé d'intégrer dans de nombreux jeux SF en tant qu'un proxy d'assassin (Warhammer 40K, Infinity, etc.).
Ce fut aussi un plaisir de travailler avec l'équipe de Warforge, d'avoir reçu leur confiance durant tout le processus de peinture. Mieux, cela fut aussi très intéressant de devoir peindre une figurine avec un bras optionnel (un bras pour le combat rapproché, et un autre avec un fusil de sniper), et d'avoir à réfléchir à la manière de les peindre séparément, sans pour autant que l'on s'aperçoive de quelconques raccords sur les photos.
Tout ce que je peux dire maintenant, c'est que j'ai hâte de voir la suite

!
Et si vous êtes intéressé par cette jolie assassine, vous pouvez la trouver ici :  Warforge : BOUTIQUE
Nikita – Close Combat Version
Nikita – Distance Version