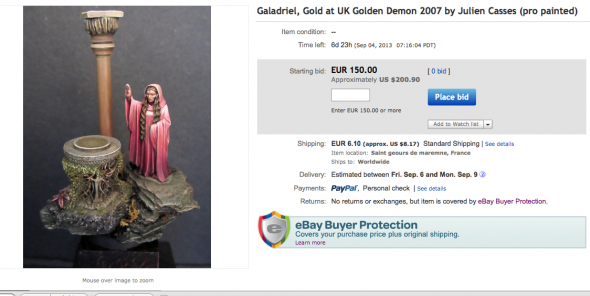 UK :
LINK TO THE EBAY AUCTION : HERE !
—-
Hi everyone ! I decided to took my Galadriel on Ebay. It'll permit maybe to one of you to obtain her at a cheaper price, and it'll be the occasion for me to make some place in my cabinet

!
(For information, the Ebay auction start at 200$, when I'm asking on this website about 330$ for her. So it's a kind of opportunity to have her at a good discount !)
It's not an easy decision for me, but with time I really come to the decision that she will be more "happy" in a collector display cabinet than in mine.
I hope this Ebay test will have an happy conclusion. And if it's note the case… well… she will stay some time more with her friends !
FR :
LIEN VERS L'ANNONCE EBAY : ICI !
—-
Salut à tous ! J'ai décidé de mettre en vente Galadriel sur Ebay. Cela permettra peut-être à l'un d'entre-vous de l'obtenir à un prix réduit, et ce sera pour moi l'occasion de faire de la place dans ma vitrine

!
(Pour info, la vente Ebay comporte un prix de départ de 150Euros. Hors, via la "boutique" du site, j'en demande 250. Il s'agit donc d'une belle opportunité pour l'obtenir à prix réduit !)
Ce n'est pas une décision facile non plus, mais avec le temps, j'en suis venu à la conclusion qu'il vaut mieux la savoir chez un collectionneur plutôt que dans ma vitrine là où je ne la regarde plus.
J'espère que ce test Ebay aura une belle fin. Et si ce n'est pas la cas… eh bien… elle restera à la maison avec ses copains un peu plus longtemps !