Packaging/Emballage
So this is a review of the beautiful barbarian, sculpted by Emmanuel Giovanni, for his range : Raining Frogs Garage.
The 350 prints of miniature are already sold out, and there will be no more copies ! Congrats to Poupée Canope (Emmanuel) for his success !
I received my barbarians by letter : 3 euros… 2.60 on the journey and the rest for the letter, so pretty good !
——–
Voici une review du très beau barbare, sculpté par Emmanuel Giovanni, pour sa gamme : Raining Frogs Garage.
Les 350 tirages de la figurines sont déjà épuisés, et il n'y aura plus de nouvelles copies ! Félicitations à Poupée Canope (Emmanuel) pour son succès !
Je reçois donc mes petits barbares par lettre. : 3 euros de frais de ports, 2.60 pour le voyage et 40 centimes pour l'enveloppe, c'est très correct !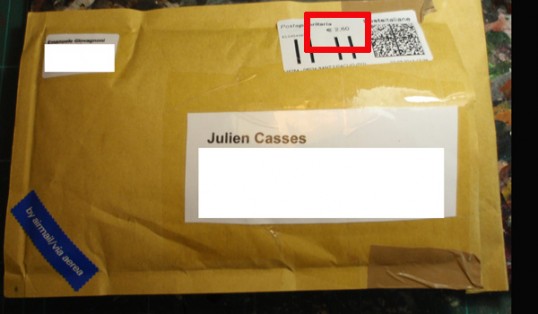 The miniature are pack in bubbles wrap. As the letter was also filled with bubbles, the whole thing is basic but pretty secure.
——–
Les figurines sont emballés dans du papier bulle. Comme c'est aussi le cas de la lettre, le tout est basique, mais plutôt sécurisé.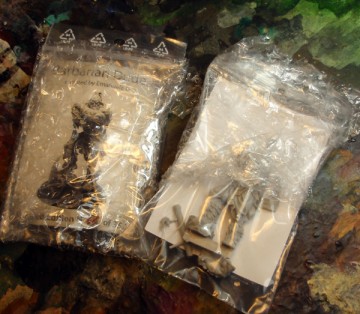 We have here a classic packaging. A plastic wrap and a card showing the resin character.
The barbarian is in four pieces : the dude, his arms, his hair and the axe.
——–
Le packaging est classique. Un emballage plastique et une carte montrant le personnage.
Le barbare est en quatre pièces : le corps, ses bras, ses cheveux et sa hache.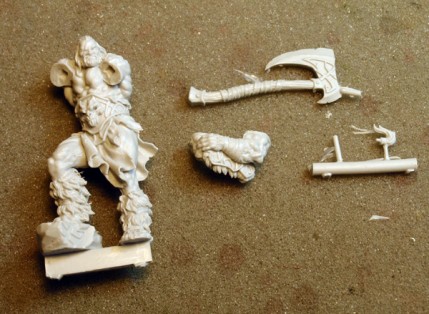 Quality of the print/ Qualité du tirage.
I ordered two barbarians. I have one very good cast, and another that'll needs a little more work.
Not a very difficult thing, but I'll need to be cautious. Just to not alterate the volumes.
Differences on the body :
——–
J'ai commandé deux barbares. Et je dois reconnaitre avoir eu un excellent tirage, et un autre qui nécessitera un peu plus de travail.
Rien de difficle, mais je devrais être délicat. Juste pour ne pas altérer les volumes.
Différences sur le corps :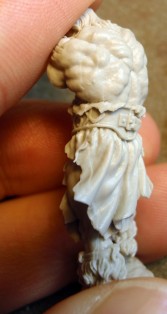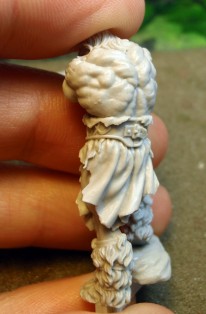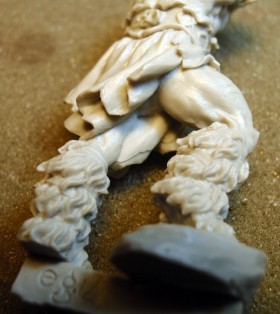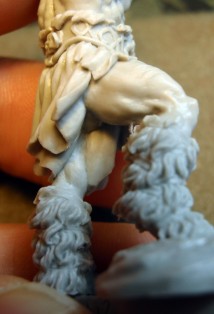 On the two prints I received, the arms are the "worst" part of the miniature. As it's on this part that the molds lines are the most visible. Luckily most of it will be hide with the torso.
——–
Sur les deux tirages reçus, les bras sont la "moins bonne" partie de la figurine. En effet, c'est sur cette zone que les lignes de moules sont les plus visibles. Par chance, une grande partie est cachée par le torse .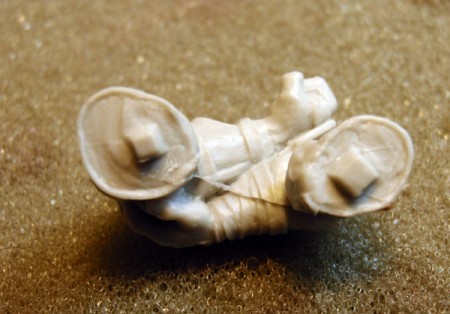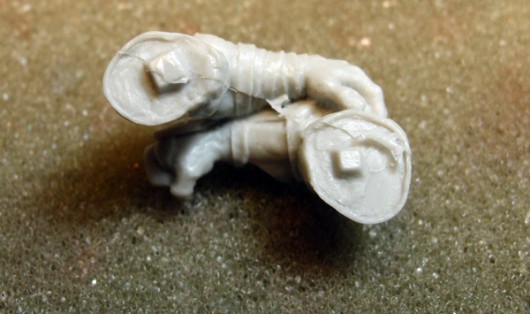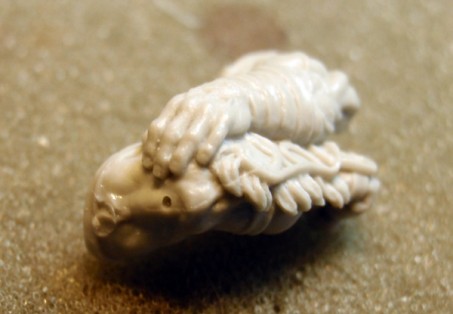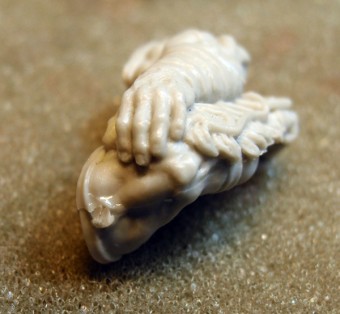 In all the case, the muscles sculpture is very… very well done. At the first look I was really thinking it was a Jacques Alexandre Gillois's Work.
——–
Dans tous les cas, la sculpture des muscle est vraiment… vraiment réussie. Au premier regard, j'ai vraiment pensé que la figurine était issue des doigts de Jacques Alexandre Gillois.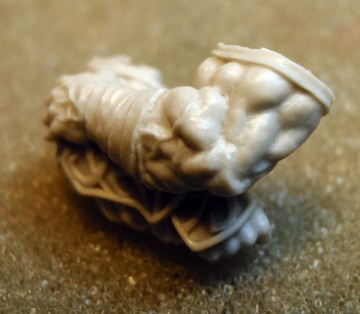 The axe/ La hache
No problem on it, and on every casts. The axes are just perfect.
——-
Aucun soucis ici, et sur les deux tirages. Les haches sont parfaites.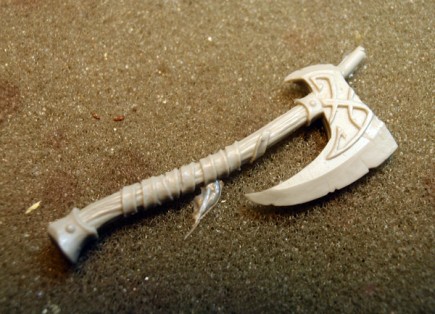 A really good miniature / Une superbe figurine
Honestly, the sculpt is wonderfull. About the prints even if one needs a bit of work (but nothing insurmountable) : the quality of the resins are very good.
The character is full of charisma (it'ld have been strange to not have it, by mixing a Simon Bisley artword and JAG Vorag's work). The pose, the face, the attitude, the details, the muscles : all make an outstanding miniature.
No surprise to see a such quality miniature being sold out in such a few time. I hope to paint it soon… I hope !
—–
Honnêtement, la sculpture est merveilleuse. À propos des tirages, et même si l'un nécessite un peu de travail (mais rien d'insurmontable) : les résines sont vraiment bonnes.
Le personnage est empli de charisme (il aurait été surprenant que cela ne soit pas le cas. Avec un mélange d'un dessin de Simon Bisley, et des Vorags de JAG). La pose, le visage, l'attitude, les détails, les muscles : tout en fait une figurine d'exception.
Pas de surprise à la voir en rupture en si peu de jours. En tout cas, j'espère le peindre rapidement… j'espère !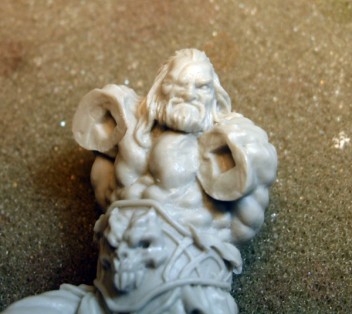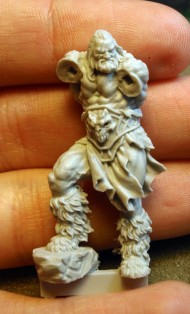 Conclusion
- Safety package / Envoi soigné
- Very good cutting of the miniature / Bonnes découpes des pièces
- Excellent resin quality / Haute qualité de résine
- Incredible sculpt / Sculpture digne d'éloge
- Correct price / Prix correct
- A miniature full of charisma / Une figurine emplie de charisme
- Not very much preparation work / Peu de travail de préparation
FINAL NOTE / NOTE FINALE : 19,5/20
(Perfection never exist… even if we are here damn pretty close of it

! / La perfection n'existe pas… mais on en est vraiment pas loin

!